Madrona Links
Golf Course
Foursomes are allowed again!
State Mandated Guidelines:
If you have already book a Tee Time with us as a twosome and would like to change it to 4 please give us a call in the Pro Shop.
Carts will be on a first come first serve basis and we encourage those that can to ride together.
Foursomes are permitted as long as the course determines that foursomes will not create congestion on the course.
Ask golfers to leave the golf course immediately after playing to eliminate congestion/gathering on the property or in the parking lot.
Please do not gather in on the property before or after your round!   
Utilize on-line or phone tee time reservation systems to pre-pay and limit interactions, and restrict payments to credit cards only to eliminate the handling of cash.
We have made it optional to pay online with Credit Card and encourage that people take advantage. We will also except Credit Cards at the shop but not Cash!
Maintain a log of all customers, including contact information.
Phone number is required for all Tee Times
 Restrict play to one rider per power cart, unless from the same household.
Carts are allowed for people from the same household to share only. All others are 1 per cart.
Ensure that the flagstick remains in at all times. Players will be educated to avoid touching the flagstick for any reason. Be creative with cup liners to avoid having players reaching into the hole to retrieve golf balls, such as installing cups upside down or partly above ground.
Cups will be filled with foam. Please do not remove the flag
Discontinue club and equipment rentals.
Club Rentals will not be available at this time.
 Limit numbers of people in a certain area of the club or pro shop. Golfers will be reminded to be especially mindful of social distancing in the parking lot, and around tees and greens.
We are limiting the number of customers allowed in the Pro Shop to 3.
Welcome to Madrona Links Golf Course

Madrona Links golf course was designed and built by Mr. Ken Tyson in 1978. His goal was to cater to all golfers by creating a fun and user friendly course. Madrona Links was one of the best kept secrets in the Gig Harbor area until our greens became famously known as some of the best in the area. Madrona prides itself on four club atmosphere where our course and greens are always well manicured and groomed for your golfing pleasure. Our goal is to have every person and group outing a repeat customer.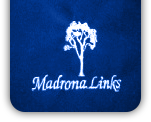 Location
3604 22nd Avenue N.W.
Gig Harbor, WA 98335