Madrona Links
Golf Course
As of Wednesday 3/25/20 we are having to close Madrona Links per Washington State instructions for the Stay at Home Order. We will still be on the premises and keeping the course in shape for as soon as we are allowed to reopen for business. Unfortunately we cannot allow anyone on the course while it is closed, anyone on the premises will be trespassing and asked to leave. If anything changes we will keep everyone informed to the best of our ability. Thanks for the cooperation and we hope to see you soon!
Madrona Links Staff
Welcome to Madrona Links Golf Course

Madrona Links golf course was designed and built by Mr. Ken Tyson in 1978. His goal was to cater to all golfers by creating a fun and user friendly course. Madrona Links was one of the best kept secrets in the Gig Harbor area until our greens became famously known as some of the best in the area. Madrona prides itself on four club atmosphere where our course and greens are always well manicured and groomed for your golfing pleasure. Our goal is to have every person and group outing a repeat customer.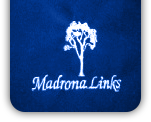 Location
3604 22nd Avenue N.W.
Gig Harbor, WA 98335